Asphalt Recycling
SCRAPPING of ASPHALT PAVEMENT
Bitumen hot mixture layers formed existing road upper structure completed its life after a certain of life cycle.It became deformed for a variety of reasons; when it became unserviceable or it is required to be replaced for any other reasons such as patching and enforcement of its profile; it is scrapped from paved ground.

SCRAPPED ASPHALT PAVEMENT
Scrapped asphalt layers are not among hazardous waste. It should be controlled as waste of wreckage (debris) and construction in accordance with "Regulation on Excavation, Construction, and Ruin Waste Control"

RECLAIMED ASPHALT PAVEMENT
RAP

RECYLING OF RECLAIMED ASPHALT PAVEMENT
Scrapped asphalt layers cannot be utilized with other purposes such as filling material and etc. like other construction waste as concrete because of its non-rigid form caused by content of bitumen. This feature of scrapped asphalt layers makes an advantage for reclamation. It can be used in production of new asphalt through reformation by applying correct processes and can make high economic value.

RECYCLED ASPHALT CONCRETE
RAC

In United States of America, best in reclamation of asphalt, has below mentioned reclamation rates:
Approximately,
| | |
| --- | --- |
| Publications similar to Magazines | %23 |
| Glass bottle | %31 |
| Plastic packing of beverages | %37 |
| Printed materials | %56 |
| Aluminum boxes | %60 |
| Asphalt | %80 |
These rates indicates the importance of possible economic and environmental effects.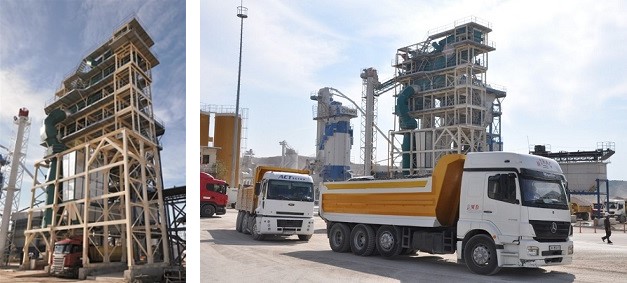 We can make asphalt recycling at high rate via RATech- our Asphalt Recycling Plant, brand of E-MAK, which is supported by TUBITAK within the scope of TEYDEB program. By means of this, a great global profit is achieved by preventing adverse impact to the environment and reducing the costs.
Chart for comparison of scrapped asphalt production costs:
Cost Comparison

COST FACTORS

WITHOUR RECYLING

WITH RECYCLING

Aggregate Usage Rate

Reclaimed Asphalt Usage Rage

100%

30%

50%

70%

Values mentioned on the chart are used as indicators of the content rates of unit cost

Quarrying

3,7

2,6

1,8

1,1

Back transport

3,4

2,4

1,7

1,0

Crushing

3,1

2,2

1,5

0,9

Carrying

5,1

3,5

2,5

1,5

AGGREGATE

15,2

10,6

7,6

4,6

DIFFERENCE

-30,0%

-50,0%

-70,0%

Bitumen Rate


%5,0

%4,17

%3,70

%3,60

Bitumen

56,3

54,0

51,7

49,6

Transport

0,8

0,8

0,8

0,7

Heating

2,8

2,7

2,6

2,5

BITUMEN

60,0

57,5

55,1

52,8

DIFFERENCE

-4,2%

-8,2%

-12,0%

Electric

5,6

3,9

2,8

1,9

Aggregate Heating cost of Asphalt Plan

11,3

7,9

5,5

3,9

Labor Cost

5,6

5,6

5,6

5,6

OPERATING EXPENSES

22,5

17,5

13,9

11,4

DIFFERENCE

-22,5%

-38,3%

-49,3%

Electricity

0,0

1,3

2,2

3,1

Aggregate heating costs

0,0

3,6

6,0

8,4

Scrapping of Asphalt

1,1

1,1

1,1

1,1

Transportation of Scrapped Asphalt

0,8

0,8

0,8

0,8

Handling of Scrapped Asphalt

0,3

0,3

0,3

0,3

Crushing of Scrapped Asphalt

Screening of Scrapped asphalt


0,0

0,6

0,6

0,6

Cost For Reclamation

2,3

7,7

11,0

14,3

DIFFERENCE

243,1%

388,4%

533,8%

TOTAL

100,0

93,3

87,6

83,1

6,7%

12,4%

16,9%
European Commission compels companies to control pollution at source, to reduce wastes and reclamation with the purpose of maintain eco- efficiency and resource-efficiency by "Prevention and Control of integrated Pollution Directive "published in 1996.
Within the frame of EU harmonization proses, Environment Regulation of Turkey will contain the approach of prevention of integrated pollution in near future so in this case asphalt production plants will be compelled to reduce waste and adverse impacts to environment and to have required technology for recycling of the waste. Every year in the World, 1,425 million tons of bitumen and 75 million tons of aggregate are consumed for asphalt production of 1.500 million tons; mass of waste consisted of scrapped asphalt is left as uncontrolled in nature.
Every year in United States of America, asphalt production is implemented approximately as of 500 million tons and 15% of asphalt is produced with reclamation of scrapped asphalt, so 300 million$ saving is maintained per year.
In our country, 15 million tons of asphalt is produced per year and 72% of this production is used in urban road construction and this rate is getting increased. This kind of reclamation can be provided with applications on urban roads in a most effectively and efficiently way so local authorities should be active and leader in reclamation.
For urban road construction, per year 10 million tons of asphalt is produced, if 1% of this production is made in reclaimed asphalt: Every year there will be no waste mass at amount of 100 thousand tons, 100 thousand tons less quarrying, less bitumen consuming about 3 thousand tons. Integrated pollution will be reduced along with reducing in usage of all these raw material. Asphalt production costs will be reduced and asphalt road construction will be implemented by consuming raw material and other resources at same rate.